Overview
Woodside Energy Julimar Pty Ltd (Woodside), proposes to drill a single exploration well (named Gemtree-A) within Permit Area WA-49-L. The proposed Gemtree-A Well is located in Commonwealth waters in the Barrow subbasin, about 142 km off the Pilbara coast of Western Australia. The closest landfall to the well location is the Montebello Islands, which are about 55 km southeast (and 47 km to the Montebello Island Marine Park).
The proposed activity will involve drilling, formation evaluation and permanent abandonment of one well. The well will be drilled using a moored semi-submersible MODU. Typically, two or three vessels will support the MODU during drilling activities. The proposed drilling of the exploration well is expected to commence in Q3 of 2020 and take about 50 days to complete. Timing of commencement and duration of these activities is subject to change due to project schedule requirements, MODU/vessel availability, unforeseen circumstances and weather.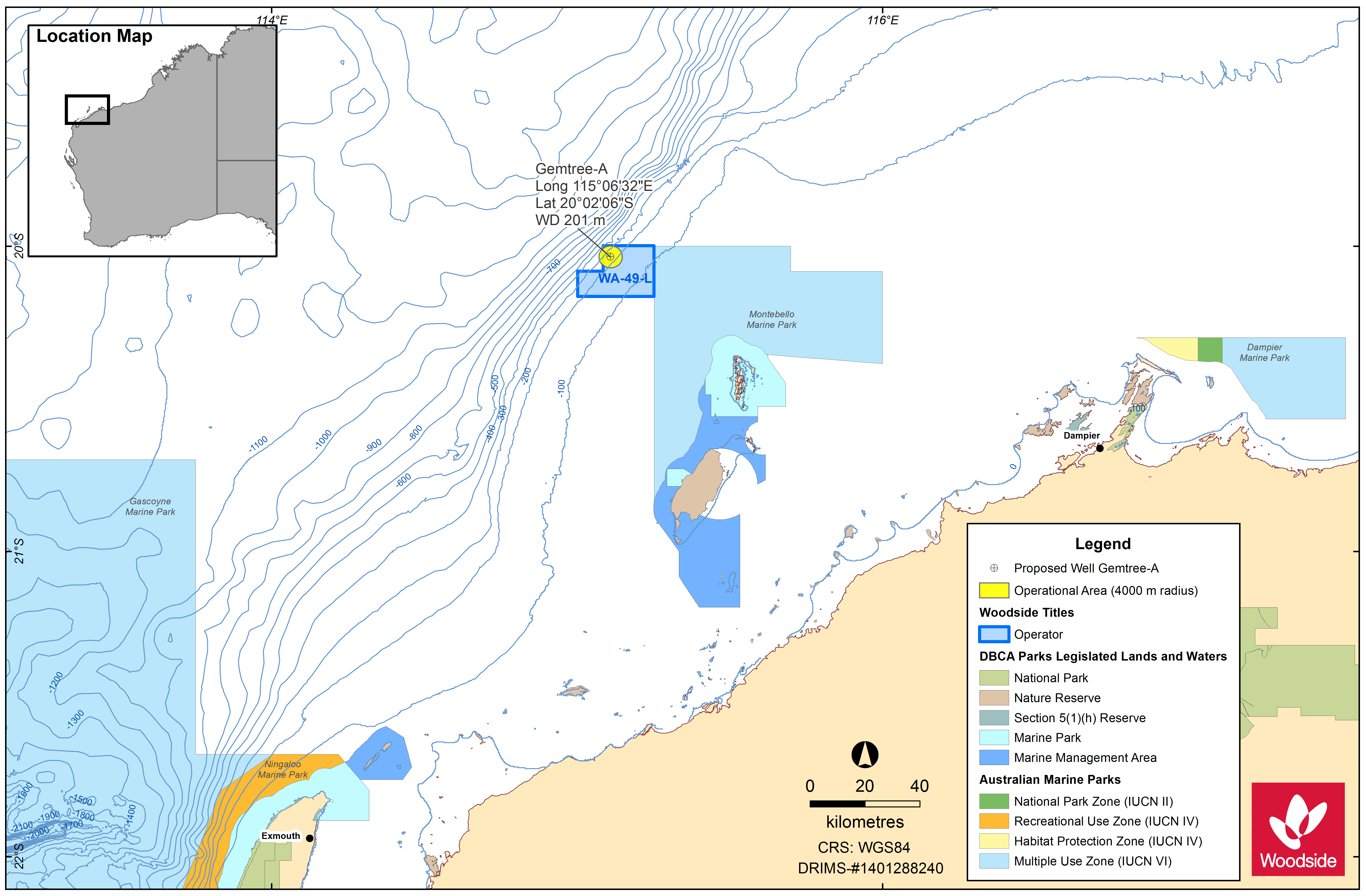 Providing your comment
The public comment process provides an opportunity for community members to have their say on environmental management aspects of proposed oil and gas activities. To make a submission click on the link below.
If your comments contain sensitive information or if you are unable to use this platform for any reason please refer to our Public comment on environment plans brochure for alternative options to have your say.
Please be aware that information that is irrelevant to NOPSEMA's decision making criteria cannot be considered, such as statements of fundamental objection to oil and gas activity, comments that contain personal threats or profanities, SPAM mail, comments made through online social media channels, petitions and comments that pose questions to NOPSEMA and or/the titleholder. NOPSEMA takes threats of a personal nature seriously and will consider legal action should the public comment process be misused to make personal threats to any NOPSEMA employee.