Overview
Santos WA Northwest Pty Ltd (Santos) proposes to undertake a single-well exploration drilling campaign in permit area WA-1-P, targeting a gas reservoir in the Legendre formation (Figure 2 1). The permit area is within offshore Commonwealth waters in water depths of approximately 63 metres (m).
The drilling activity will be carried out using a jack-up Mobile -Offshore Drilling Unit (MODU) with support vessels and helicopters. A sidetrack or re-spud is not planned as part of the activity but is included as a contingency. This Environment Plan (EP) covers drilling activities and all MODU, vessel and helicopter operations within the operational area (the activity).
A Petroleum Safety Zone (PSZ) of 500 m radius established around the well location. The well will be drilled within an operational area measuring 2 km x 2 km square, as shown in the Location Figure. In the event of a re-spud, the new well location would remain within the operational area. Distances of key islands and mainland points from the operational area are:
• Dampier Archipelago 60km SSE
• Montebello Islands 93km SW
• Dampier 85km SSE
• Cape Preston 97km SSW
• Lowendal Islands 110km SW
• Barrow Island 121km SW
Drilling activities are planned for approximately 30 days. However, contingency (up to 75 days) is provided to account for unfavourable weather, additional drilling (e.g. a re-spud) or operational challenges. Activities will be conducted 24 hours per day, seven days per week.
Drilling is planned to commence in Q4 2021 and the EP remains valid until the end of 2022.
The MODU will be towed into position by one or more support vessels. MODU refuelling in the operational area may occur during the activity. Whilst on position, a 500 m PSZ will be maintained around the MODU at all times, as required under the OPGGS Act.
The MODU will be typically supported by two vessels, with a maximum of four accounted for in this EP. The support vessels are yet to be confirmed. The vessels will be either stationary or operating at slow speeds while undertaking activities within the operational area including:
• Towing the MODU;
• Holding MODU position while pinning the rig;
• Standby operations;
• Delivering supplies; and
• Back loading surplus chemicals, equipment and waste for delivery to shore.
The activity will also be supported by ROV operations and helicopter operations used primarily for crew change and medevac, and occasionally equipment and material transfers. Helicopter flights will occur a minimum of three times a week, dependent on the progress of the drilling program and logistical constraints.
The well will only use water based drilling fluids and no well testing to surface (i.e. flowing hydrocarbon to surface and flaring) is planned. Downhole formation evaluation will be performed which may include wireline logging, Vertical Seismic Profiling and coring. After completion of the drilling activity, the well will be plugged and abandoned (P&A). P and A procedures are designed to isolate the well and mitigate the risk of a potential release of wellbore fluids to the marine environment.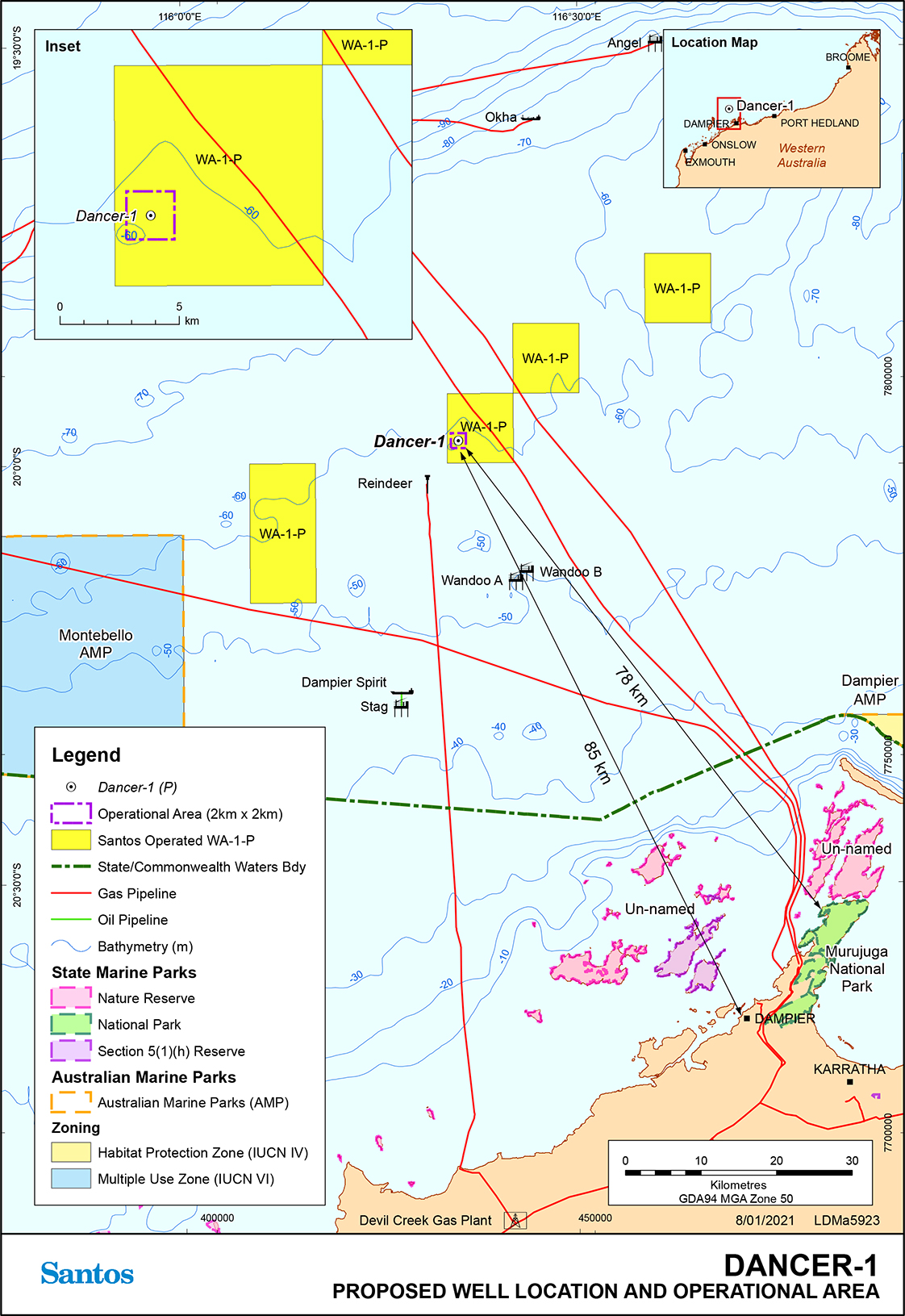 Providing your comment
The public comment process provides an opportunity for community members to have their say on environmental management aspects of proposed oil and gas activities. To make a submission click on the link below.
If your comments contain sensitive information or if you are unable to use this platform for any reason please refer to our Public comment on environment plans brochure for alternative options to have your say.
Please be aware that information that is irrelevant to NOPSEMA's decision making criteria cannot be considered, such as statements of fundamental objection to oil and gas activity, comments that contain personal threats or profanities, SPAM mail, comments made through online social media channels, petitions and comments that pose questions to NOPSEMA and or/the titleholder. NOPSEMA takes threats of a personal nature seriously and will consider legal action should the public comment process be misused to make personal threats to any NOPSEMA employee.