Overview
Full details of this EP including published Documents.
All open for comment EP's.
Western Gas plans to drill the Sasanof-1 exploration well in Exploration Permit WA-519-P, located in Commonwealth waters in the Carnarvon Basin offshore Western Australia.
Drilling will commence at the earliest in Q1 2022, subject to approvals, vessel availability and weather constraints, with an activity duration of approximately 25 days. The Sasanof-1 location is about 207 km northwest of Onslow. Approximate water depth at the location is 1070 m.
The Sasanof-1 well will be drilled using a semi-submersible mobile offshore drilling unit (MODU), which will be anchored to the seabed or, depending on rig availability, a dynamically positioned MODU may be used as an alternative. Activity support vessels will include general supply/support vessels and anchor handling vessel(s). The activity will also be supported by helicopter operations, primarily for passenger transfers/crew changes and minor supplies, but may also be used in the event of an emergency evacuation. Remotely operated vehicles will also be used.
For the duration of drilling activities a 500 m temporary Petroleum Safety Zone will be in place around the MODU and a 5 km radius temporary Operational Area (Cautionary Area) will be in place around the well location. Drilling activities will be undertaken 24 hours per day, 7 days per week.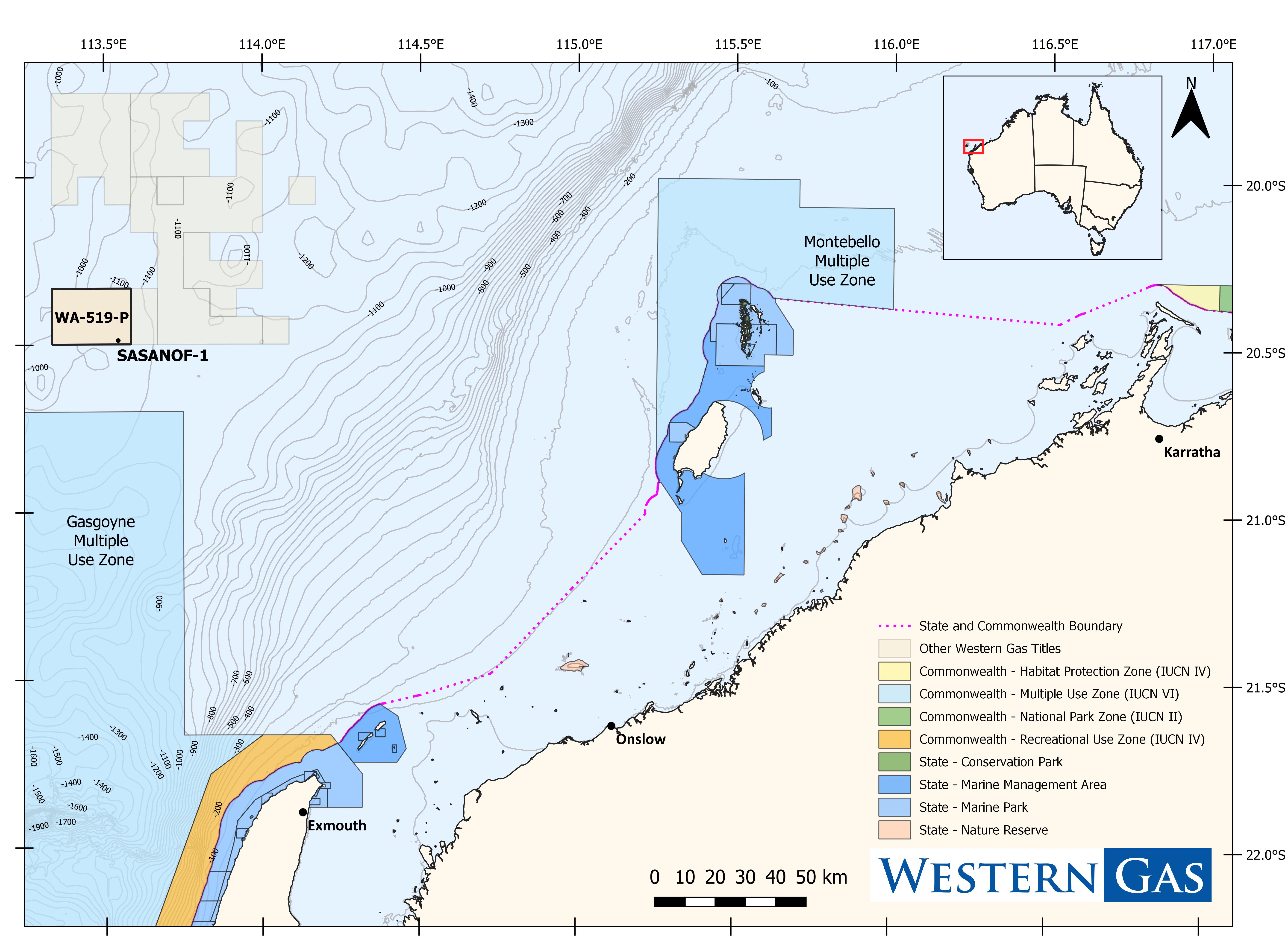 Providing your comment
The public comment process provides an opportunity for community members to have their say on environmental management aspects of proposed oil and gas activities. To make a submission click on the link below.
If your comments contain sensitive information or if you are unable to use this platform for any reason please refer to our Public comment on environment plans brochure for alternative options to have your say.
Please be aware that information that is irrelevant to NOPSEMA's decision making criteria cannot be considered, such as statements of fundamental objection to oil and gas activity, comments that contain personal threats or profanities, SPAM mail, comments made through online social media channels, petitions and comments that pose questions to NOPSEMA and or/the titleholder. NOPSEMA takes threats of a personal nature seriously and will consider legal action should the public comment process be misused to make personal threats to any NOPSEMA employee.