Overview
Full details of this EP including published Documents.
All open for comment EP's.
PLEASE NOTE THIS ENVIRONMENT PLAN HAS BEEN WITHDRAWN AT THE REQUEST OF THE TITLEHOLDER
In 2018, the National Energy Resources Australia (NERA) established an industry consortium to address long-standing issues affecting stakeholders, the environment, and proponents regarding potential marine seismic surveys offshore Australia. The project is called the Collaborative Seismic Environment Plan Project (CSEP Project).
The CSEP titleholders are:
• CGG Services (Australia) Pty Ltd
• ConocoPhillips Exploration Australia Pty Ltd.
• IPB Petroleum Limited
• Petroleum Geo-Services (PGS) Australia Pty Ltd
• Santos Limited
• Searcher Seismic Pty Ltd
• Shell Australia Pty Ltd
• TGS-NOPEC Geophysical Company Pty Ltd
The CSEP will allow for 2D, 3D and 4D seismic surveys within the CSEP Operational Area which is within Commonwealth waters with the following restrictions:
• The total combined 2D seismic surveys conducted under the CSEP within the CSEP Operations Area will not exceed 50,000 survey line km per calendar year.
• The total combined size of the Acquisition Areas of any 3D or 4D seismic surveys, or survey phases, conducted under the CSEP within the CSEP Operations Area will not exceed 40,000 km2 in any calendar year.
• The Acquisition Area of any single 3D or 4D seismic survey, or survey phase, conducted under the CSEP within the CSEP Operations Area will not exceed 10,000 km2.
Spatial and temporal exclusion zones will be implemented to manage potential impacts to commercial fishers, marine fauna and marine protected areas including the Ningaloo Coast World Heritage Area.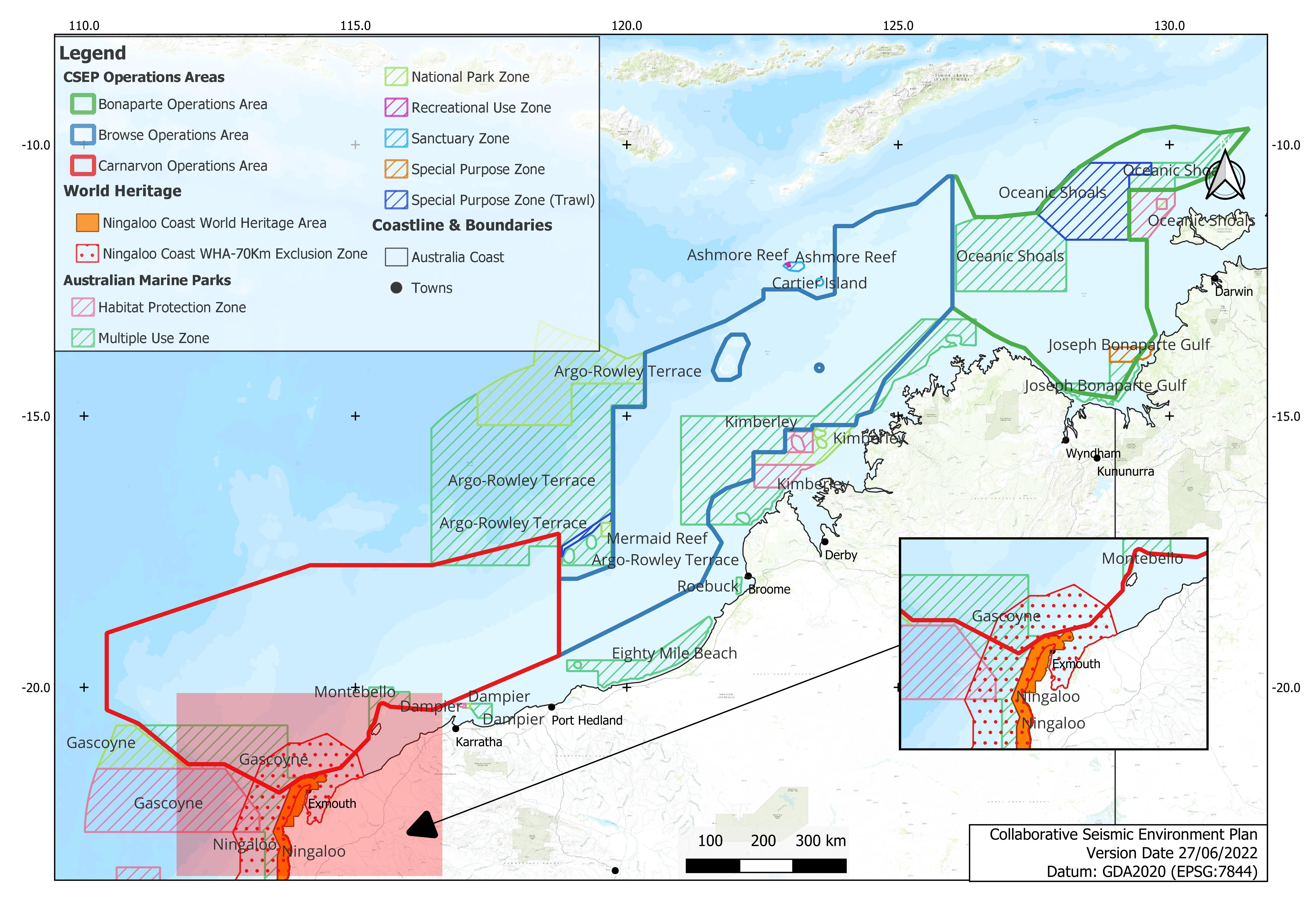 Providing your comment
The public comment process provides an opportunity for community members to have their say on environmental management aspects of proposed oil and gas activities. To make a submission click on the link below.
If your comments contain sensitive information or if you are unable to use this platform for any reason please refer to our Public comment on environment plans brochure for alternative options to have your say.
Please be aware that information that is irrelevant to NOPSEMA's decision making criteria cannot be considered, such as statements of fundamental objection to oil and gas activity, comments that contain personal threats or profanities, SPAM mail, comments made through online social media channels, petitions and comments that pose questions to NOPSEMA and or/the titleholder. NOPSEMA takes threats of a personal nature seriously and will consider legal action should the public comment process be misused to make personal threats to any NOPSEMA employee.