Overview
Full details of this EP including published Documents.
All open for comment EP's.
ConocoPhillips Australia SH1 Pty Ltd and ConocoPhillips Australia SH2 Pty Ltd ('ConocoPhillips Australia') are planning to undertake exploration activities in offshore permits VIC/P79 and T/49P located in Commonwealth waters of the Otway Basin, 19 km offshore of Victoria and 28 km offshore of King Island, Tasmania. ConocoPhillips Australia's proposed Otway Exploration Drilling Program involves seabed surveys at up to a maximum of nine locations, and drilling up to a maximum of six exploration wells in water depths ranging from 53 m to 500 m. The activity is scheduled to commence no earlier than 1st of April 2024 and will be completed no later than 31st of December 2028, with the exact timing dependent on the receipt of environmental approvals and the availability of a mobile offshore drilling unit ('MODU').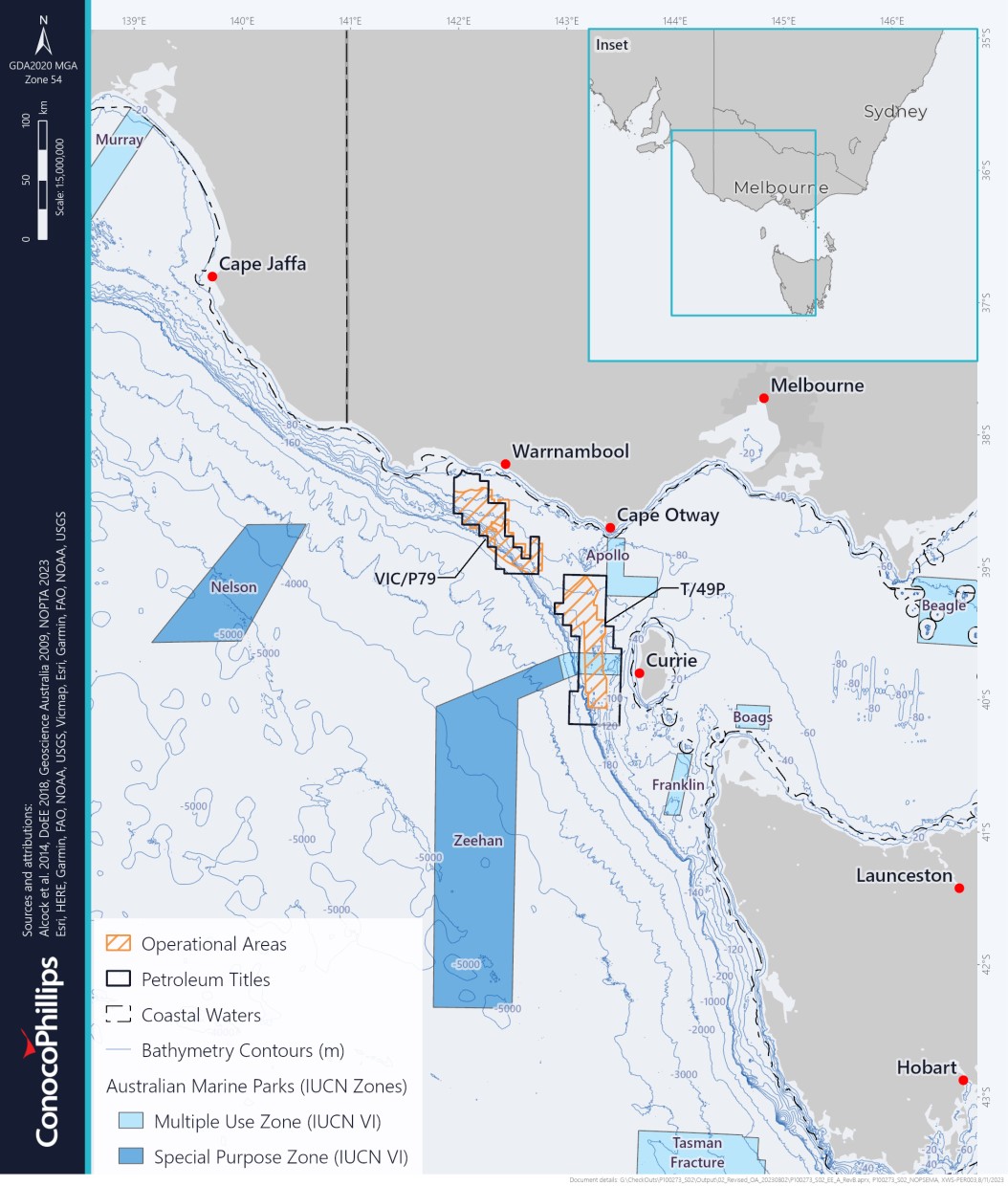 Providing your comment
The public comment process provides an opportunity for community members to have their say on environmental management aspects of proposed oil and gas activities. To make a submission click on the link below.
If your comments contain sensitive information or if you are unable to use this platform for any reason please refer to our Have you say on environmental aspects of offshore energy activities brochure for alternative options to have your say.
Please be aware that information that is irrelevant to NOPSEMA's decision making criteria cannot be considered, such as statements of fundamental objection to oil and gas activity, comments that contain personal threats or profanities, SPAM mail, comments made through online social media channels, petitions and comments that pose questions to NOPSEMA and or/the titleholder. NOPSEMA takes threats of a personal nature seriously and will consider legal action should the public comment process be misused to make personal threats to any NOPSEMA employee.
Have your say