Overview
The Amulet Development is within Commonwealth waters in retention lease WA-8-L, located ~132 km north of Dampier in the north-west of Australia, in water depths of ~80 m.  The Talisman oil field is ~3.5 km to the west of Amulet, within WA-8-L, the field has already been produced, but was abandoned 1992. Due to its proximity to the Amulet field, KATO may choose to reinstate production from the Talisman field concurrently with the Amulet Development.
KATO Energy Pty Ltd (KATO) plans to develop the Amulet and Talisman fields using a relocatable system known as the 'honeybee production system'.
The honeybee production system has been used successfully in many locations around the world, including offshore WA. The 'honeybee production system' comprises the following key elements:
jack-up mobile offshore production unit (MOPU).

production unit on the MOPU, which will separate and process oil, gas and water.

wells workover module on the MOPU, which will have the capability to plug and abandon wells, and potentially to drill; however, a separate mobile offshore drilling unit (MODU) may be used.

short flowline and riser from the MOPU to a catenary anchor leg mooring (CALM) buoy.

floating marine hose to transport oil.

moored floating storage and offloading (FSO) facility, where oil is stored; or direct to shuttle tankers (depending on export option selected).

floating export hose to offload oil from the FSO to export tankers.
The key components covered in this Offshore Project Proposal (OPP) for the Amulet Development are:
site survey of the proposed location of subsea infrastructure

drilling of up to two production wells, one dual-purpose production/water injection well, and allowance for a sidetrack

installation, hook-up and commissioning of a mobile offshore processing unit (MOPU), catenary anchor leg mooring (CALM) buoy and mooring arrangements, flowline and riser, and a floating storage and offloading (FSO) facility

operation of the facilities

decommissioning and removal of subsea and surface infrastructure, and plug and abandonment (P&A) of the wells.
If the Talisman oil field is developed, up to two production wells will be drilled with allowance for a sidetrack. The preferred field development option is to drill extended reach deviated wells through the conductor deck of the MOPU, whilst at the Amulet location. However, if a subsea tieback system option is selected, the following additional components will be incorporated specifically for the development of the Talisman field:
Talisman subsea trees (production wells) and jumpers to the manifold

Talisman manifold, to commingle production from nearby Talisman wells

~3.5 km production flowline and service umbilical from the Talisman manifold to the MOPU at Amulet.
Amulet and Talisman fields are part of a portfolio of KATO operated fields. The intent is that as each field is depleted, it is fully decommissioned, and the honeybee production system is then relocated to the next field.
The conservative project life for the Amulet Development (from mobilisation to decommissioning) is approximately five years, with a preliminary project schedule outlined in the table below.  
Phase

Timing*

Indicative Duration

Survey

Q1 2023

1 month

Drilling

Initial campaign – Q2/Q3 2023

Second campaign (if required) – 1 to 2 years after start-up

Initial campaign – 7 months

Second campaign (if required) – additional 4 months

Installation, Hook-up and Commissioning

Q3 2023

3 months

Operations

Q4 2023

Between 1.5 and 4.5 years, at best and high estimates of production respectively

Decommissioning

Between 2025 and 2027

(depending on duration of operations)

3 months
*Timing shown is if the Amulet Development is the first field developed using the relocatable honeybee production system of the KATO-owned fields. If the KATO-owned fields are developed in a different order, the timing of Amulet may be later than shown.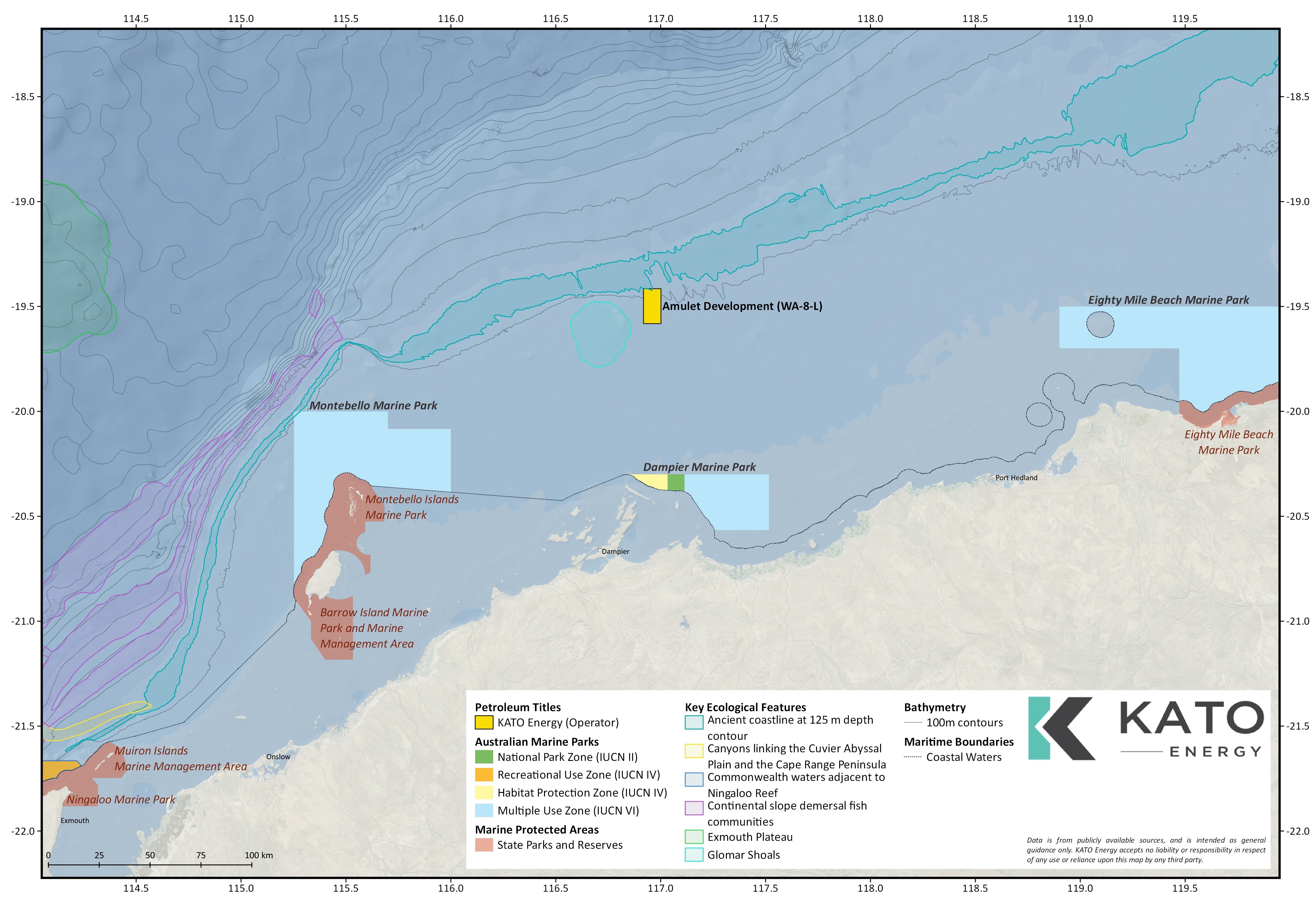 Providing your comment
The public comment process provides an opportunity for community members to have their say on environmental management aspects of proposed oil and gas projects. To make a submission click on the link below.
If your comments contain sensitive information or if you are unable to use this platform for any reason please refer to our Making public comment on offshore project proposals information paper for alternative options to have your say.
Please be aware that information that is irrelevant to NOPSEMA's decision making criteria cannot be considered, such as statements of fundamental objection to oil and gas prohects, comments that contain personal threats or profanities, SPAM mail, comments made through online social media channels, petitions and comments that pose questions to NOPSEMA and or/the proponent. NOPSEMA takes threats of a personal nature seriously and will consider legal action should the public comment process be misused to make personal threats to any NOPSEMA employee.